What is a season pass?
A season pass is a purchasable item that entitles you to all of the current and future DLC released within a season (usually a period of a few months) for a cheaper price than purchasing the content separately.
When you purchase a season pass, you immediately receive any content from that season that has already been released and then receive any future content when it is launched.
Example
If Season Pass X is released on 4th July and you purchase it on 4th August, you will get:
All of the DLC that was released between 4th July and 4th August
AND
Any remaining season pass DLC when it is released.
What is included in Sniper Elite 5's Season Pass One?
All of Season Pass One's content has now been launched. If you purchase this season pass, you will immediately receive:
Landing Force Mission & Weapon Pack
Landing Force Mission
D.L. Carbine Rifle Pack
PPSH SMG Pack
Concealed Target Weapon & Skin Pack
HS .22 Pistol Pack
Pea Dot Camo Skin
Ghillie Suit Elite (Male & Female)
Up Close & Personal Weapon Pack
Win & Co 1885 Rifle
Erma .36 SMG
Tank Top Skins (Male & Female)
Conqueror Mission, Weapon & Skin Pack
Conqueror Mission
Drilling Shotgun
Oak Leaf Paint Skin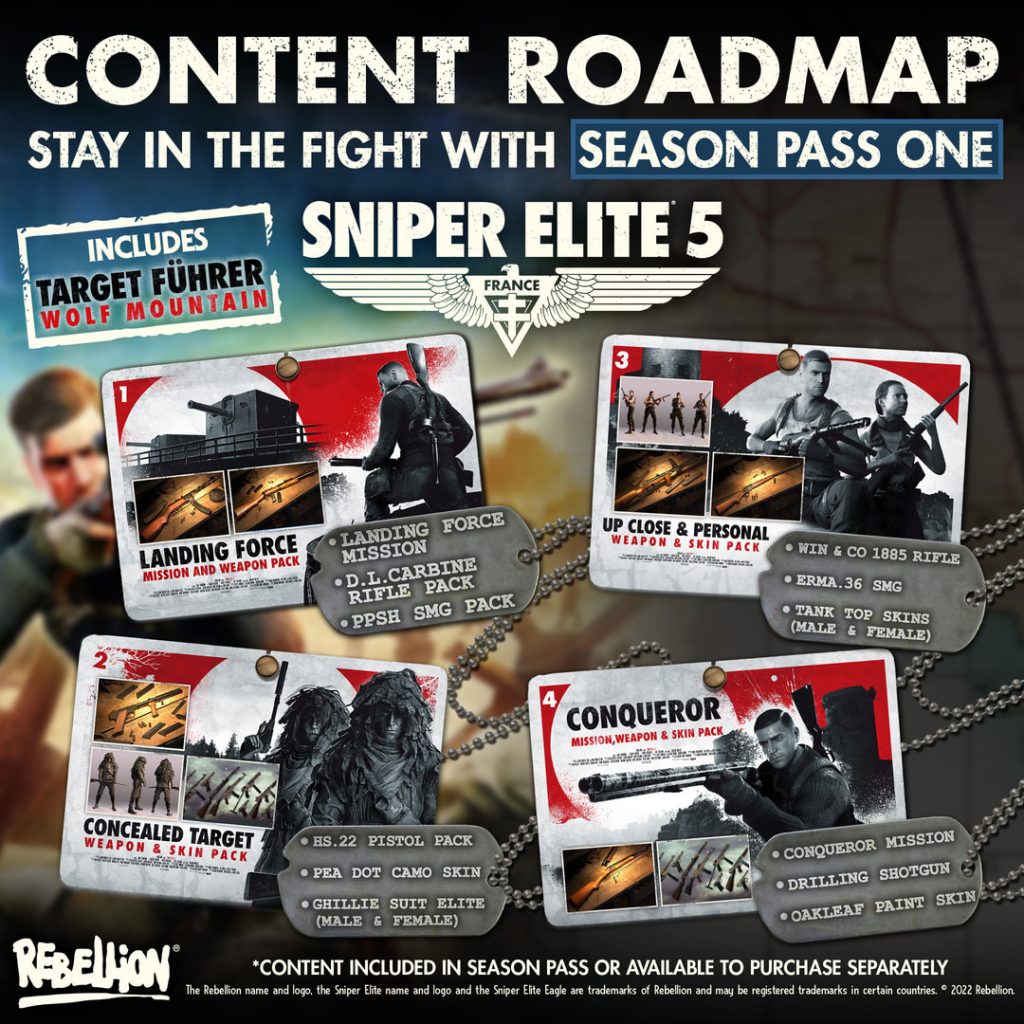 What is included in Sniper Elite 5's Season Pass Two?
All of Season Pass Two's content has now been launched. If you purchase this season pass, you will immediately receive:
Rough Landing Mission & Weapon Pack
Rough Landing Mission
Moisin-Nagant Rifle Pack
Sjogren Shotgun Pack
Death From Above Weapon & Skin Pack
Penderson Rifle Pack
British Dazzle Skin
British Bomber Skin
Air Auxiliary Skin
Saboteur Weapon & Skin Pack
Tera Rifle Pack
Grease Gun Pack
Liberator Skin Pack
Kraken Awakes Mission, Weapon & Skin Pack
Kraken Awakes Mission
Mod.712 pistol
Patriot Weapon Skin
American Airborne Character Skin (Karl)